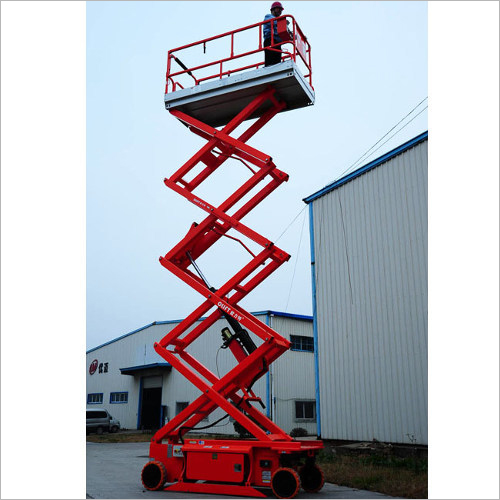 Self-Propelled Scissor Lift
Nio Equipment & Engineering is in the manufacturing, exporting and supplying of a comprehensive assortment of material handling equipments.
Offered products range consists of MS Pallet, Scissor Lifts, and Hydraulic Lift Table. Our gamut encompasses Pallet Trucks, Pallet Stackers Floor Crane, Scissor Lift Table, Dock Leveler, Drum Handling Equipment, Lift For Car, Goods & Personal Use, Portable Gantry & Racks, Trolleys, Castors And Wheels, Fabrication Works and Hydraulic Cylinder, Power Pack.
We also customize these Lifts as per as per the client's requirements.
More to this, our products are famous for their fine finishing, long service life, easy to use and affordable prices. Our range is demanded worldwide for its high functionality, durability, and reliability.
Self Propelled Scissor Lift
Self-propelled scissor lift is a scissor type automatic system having a high stability.
Self-Propelled Scissor Lift have 90° turn radius. No outer frames are required to support the platform due to its compact structure while working on small sites and also it helps to pass through the narrow doorways. Its hoisting power can also be chosen between AC power and battery power.
Self-propelled scissor lifts, are very usual type of Mobile Elevating Work Platforms (MEWPs) which can move vertically through folding supports in a 'X' pattern, known as a scissor mechanism.
Self-propelled scissor lifts are classified in 2 main categories based on how they are powered and where they are used.
Battery-powered (or electric) scissor lifts are used mainly indoors on slab surfaces,

Engine-powered lifts are used outdoors where the surfaces are frequently uneven (for this reason they are commonly referred to be for 'rough terrain')
Regardless of how they are powered, they have many sensors and controls to manage movement, safety, and mainly stability (operators on the platform are subject to fall hazards.
Self-propelled scissor lifts have many sensors that can control and manage the safety, movement and majorly the stability. These Lifts majorly used to lift workers to high space for maintenance, repairing , cleaning, installation and many more.
Self-propelled scissor lifts helps to move forward, turn around and operate the lifts with ease. These lifts can be charged in a short duration and have long lasting battery life.
Self-propelled scissor lifts can be moved easily in smooth working condition and high working efficiency.
Self Propelled Scissor Lift Features
Battery power: long battery life and maintain free

Faster & Intelligent charger

Faster & Intelligent charger

Environmentally friendly

Extension platform, expand working range

Cost effective compared with boom lifts

Emergency stop

Manual lower down device

Dual control on platform or ground

Quick fold railings

Overload sensing

Slope protection
REQUEST A QUOTE