Stair Climbing Trolley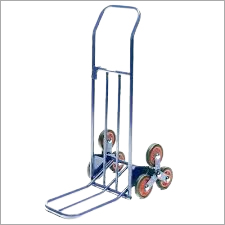 Nio Equipment & Engineering is engaged in the manufacturing, exporting and supplying of a comprehensive assortment of material handling equipment's.
Our gamut encompasses Pallet Trucks, Pallet Stackers Floor Crane, Scissor Lift Table, Dock Leveler, Drum Handling Equipment, Lift For Car, Goods & Personal Use, Portable Gantry & Racks, Trolleys, Castors And Wheels, Fabrication Works and Hydraulic Cylinder, Power Pack.
Stair Climbing Trolley
Stair Climber trolley is comprised of wheels or tracks that rotates and which can be pushed or pulled up or down steps or a stairway. Stair climbers typically come in wheel, push arm, track or walker versions and can be manually operated or powered by a battery.
Even the semi-automated staircase climbing trolley are developed for moving plants, materials, and other items up and down building stairs with minimal human intervention. Patients and people with disabilities can be carried up the stairs with the same unit and an additional attachment.
An electric motor powers a mechanical push arm or a set of rotating tracks on a powered stair climbing trolley, propelling the stair climber and load up the stairs. This can also be used to guide a heavy load down a flight of stairs in the opposite direction.
Stair Climbing Trolleys by Nio Equipment is skillfully constructed to transport goods up and down stairs, flat ground, and even rough terrain. This is possible because the trolley employs a triple wheel arrangement with interconnected wheels. The mechanism makes use of a trolley with support wheels that will serve as support when the trolley is at rest and will be suspended in the air when it is lifted. The interlinked wheel system comprises of 3 uninhibitedly moving wheels. A connecting rod connects these wheels. Each wheel has three such connecting shafts, with a main rod connecting to the three rods via a free-moving bearing mechanism. This mechanism makes it possible to climb stairs effectively. This feature makes it possible
REQUEST A QUOTE