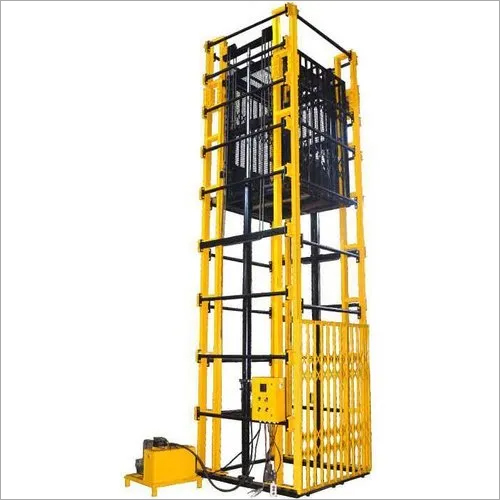 Nio Equipment & Engineering is engaged in the manufacturing, exporting and supplying of a comprehensive assortment of material handling equipment's.
Our gamut encompasses Pallet Trucks, Pallet Stackers Floor Crane, Scissor Lift Table, Dock Leveler, Drum Handling Equipment, Lift For Car, Goods & Personal Use, Portable Gantry & Racks, Trolleys, Castors And Wheels, Fabrication Works and Hydraulic Cylinder, Power Pack.
Double Mast Goods Lift
Material is moved from one floor to another with a Double Mast Hydraulic Goods Lift. It must be erected with wall support on two sides; the remaining two sides can be used for loading and unloading. A wide range of solutions can be accommodated using this kind of Double Mast Hydraulic Goods Lift.
We at Nio Equipment & Engineering built it to work in harsh environments where heavy loads must be moved across multiple floors. Double Mast Hydraulic Goods Lift are highly customizable, allowing the customer to tailor the product precisely to his requirements.
Specifications
Flameproof controls are available

Can be constructed in SS 304/316
The unit cost of the Double Mast Electro Hydraulic Goods Lift is solely determined by the technical specifications because it is a completely custom product. Moving things from one floor level to another is helpful. Most useful in warehouses, multifloored buildings, mezzanine floors, etc.
These lifts are utilized for moving material from the ground floor to the first and second floors.
Because these lifts stand on their own, no civil work like duct is required.

Up and down motion with an Electro-Hydraulic Power Pack that operates entirely automatically

A valve with an adjustable overload protection provides protection from overloading.

The power drive unit is on the ground, making maintenance simpler.

In addition to mechanical stoppers, limit switches control the up and down movements.
REQUEST A QUOTE