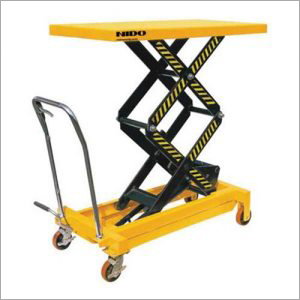 Scissor Lifts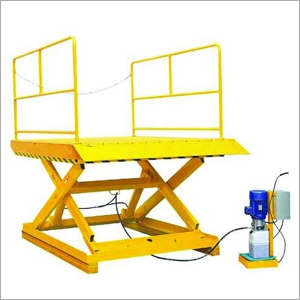 Scissor Lifts
Nio Equipment & Engineering is engaged in the manufacturing, exporting and supplying of a comprehensive assortment of material handling equipment's.
We are authorized Hydraulic Scissor Lifts Manufacturer and Supplier's registered by the Govt. of India.
Scissor lifts are work platforms used to safely move workers vertically and to different locations in a variety of industries including construction, retail, entertainment and manufacturing.
In a Warehouse people have to work harder to manage the products efficiently and arrange them correctly to minimize the space occupancy. In a warehouse, shifting of several goods are done on a regular basis. This can be difficult if the shifting is done manually consuming lot of energy that may reduce the productivity. Here the Platform trolley plays a major role which can reduce the efforts and save energy.
Benefits of Scissor lift
Scissor lift helps to accommodate the table height, reduces the bending and twisting and also can minimize the risk of frequent strain type injuries. Scissor lifts, also known as Lift tables, are the most preferred solutions for vertical lifting and positioning of material work.
Advantages of a Scissor lift
Scissor lifts are considered as the most compact lifting equipment as compared to other work platforms which require huge floor space to operate. The total area required is virtually equivalent to the area of the lift-able platform, making these lifts easy to store.
Features of Scissor Lifts
Can be used at any intermittent height

Limit switch for auto shut off

Platform surface is made up of anti-skid checkered steel plate
Applications areas for Scissor Lifts
Warehousing : Scissor Lifts are used for Loading and Unloading of goods. Storage of every vertical and horizontal inch of space must be used efficiently.
Construction : Scissor lifts provide a mobile, versatile solution for dynamic construction projects
Production : Scissor lifts helpful for Manufacturing, Chemical processing, Food processing, Bricklaying
Railways : Scissor lifts are required on daily basis for jobs in the Railyard for loading and fitting into narrow spaces to reach up high.
Transportation : Truck and rail facilities around the country and the world have goods to reach, store and retrieve, often on different levels of a warehouse building. Pallets, roll cages, parts and people can be safely transported to another floor.
Scissor Lifts Specification
Load Capacity : 1 ton
Lifting Height : 15 feet
Minimum Height : 500 mm
Platform Width: 1800 mm
Platform Length: 2800 mm
REQUEST A QUOTE